eOPOTA Learning Management System
eOPOTA Learning Management System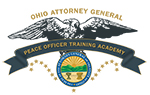 Welcome to the Ohio Attorney General's Electronic Ohio Peace Officer Training Academy (eOPOTA). This service provides you on-line training opportunities for career development and compliance with Continuing Professional Training (CPT) and Statutorily Mandated Training requirements.
Please log into eOPOTA with your OHLEG credentials.
Locked Courses
If you are experiencing issues accessing a course that is locked, contact Tory Lowe, E-Learning Design Specialist at Tory.Lowe@OhioAttorneyGeneral.gov.
Course Not Loading Issues
For an optimal site experience, we recommend using the most current version of Chrome.
When using Chrome, please check your Google Chrome settings to ensure you have enabled the Pop-Up blocking feature and allowed Flash to play for your eOPOTA courses. Contact your agency Information Technology department for assistance in enabling the Flash and Pop Up settings.
Log-in Issues
If you are experiencing log-in issues, contact OHLEG Support at 866-40-OHLEG (866-406-4534) or email OHLEGsupport@OhioAttorneyGeneral.gov.
Certificate Issues
If you are experiencing trouble with your certificates not showing up on your transcript, email eOPOTACertificates@OhioAttorneyGeneral.gov.
Please include the following in your email so we can assistance you in a timely manner:
Your username
The name of the course(s) you're missing
The time spent on the course(s)
The score
The browser and version you took the course(s) in (ie. Internet Explorer, Google Chrome, Firefox etc.)